By Unoid, 12-24-2005

Introduction
With my recent purchase of a X800XT AIW from the trusty Newegg, I decided to take advantage of my newly constructe4d watercooling setup by investing in a Danger Den Maze 4 GPU waterblock and ramsinks. I ordered the waterblock from Danger Den's website and some generic copper ramsinks. This review will be more of an observations and experiences of the utility and use of watercooling your GPU than that of a waterblock comparison.
The Waterblock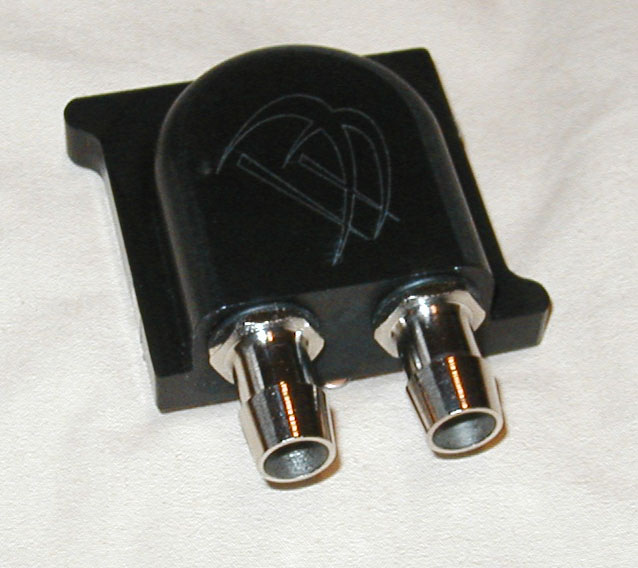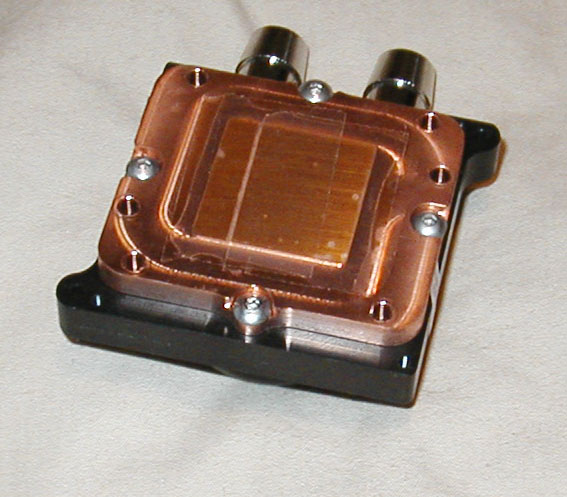 The Ramsinks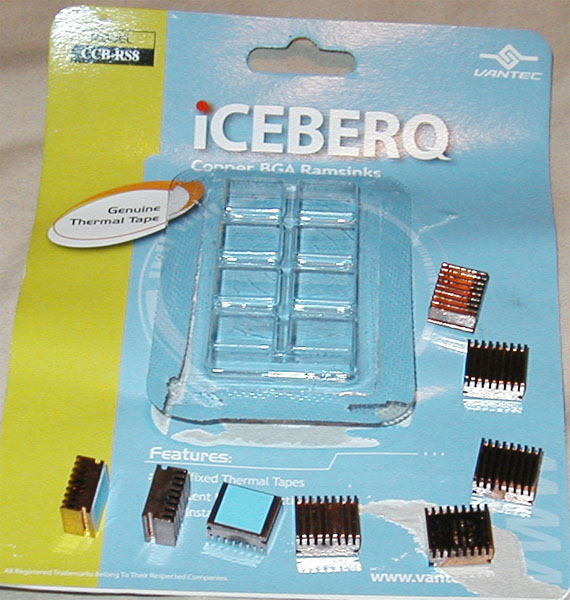 The x800xt AIW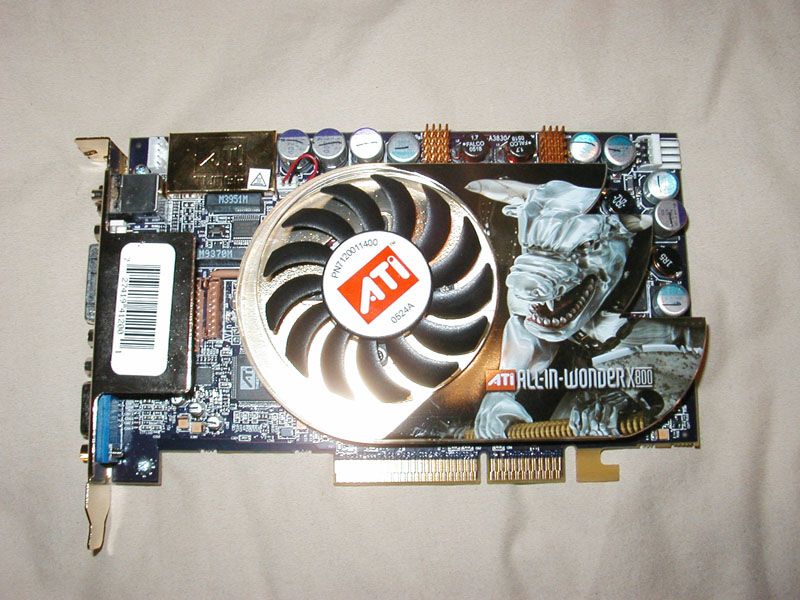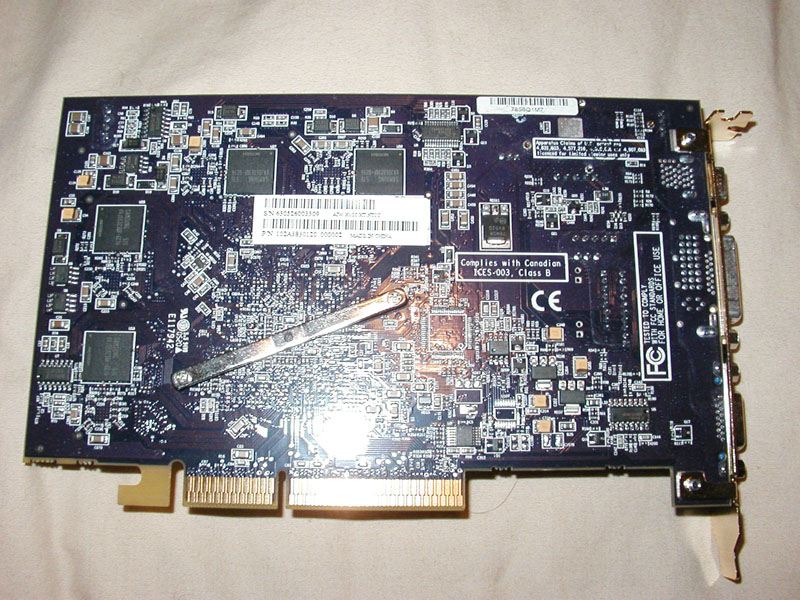 A small note: when removing the stock heatsink assembly make sure you apply a lot of pressure while you're unscrewing; the little screws on the rear of the cards strip very easily.

The good thing about the x800xt AIW is that it comes with Samsung 1.6ns BGA memory. The Stock clocks of the card are 500Mhz GPU / 1000Mhz DDR. Samsung 1.6ns GDDR3 chips are rated to operate at 1200mhz DDR. So invariably this card is a x800xt PE except for having a weak single slot stock heatsink assembly.

Removed Stock Cooler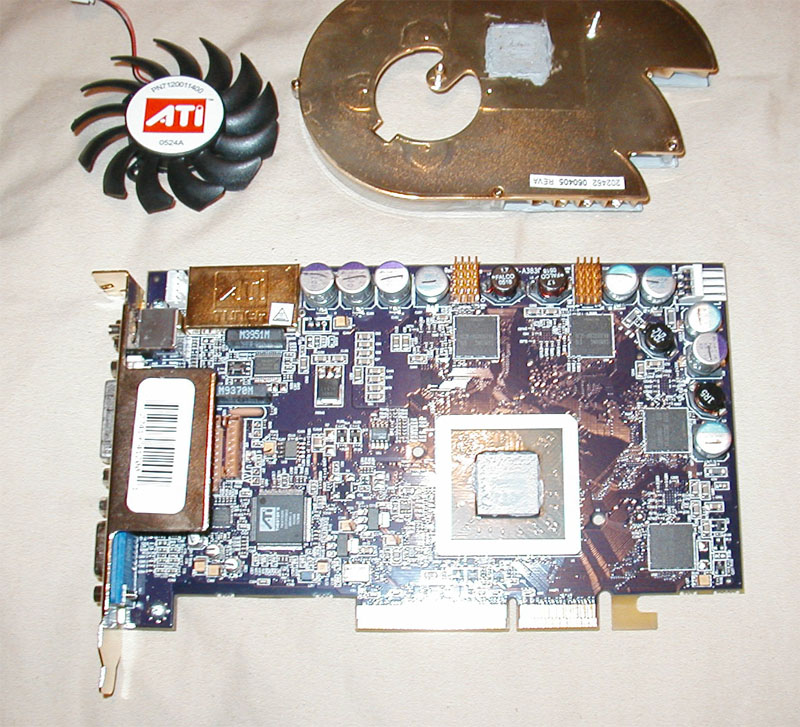 Installation
To prep for the Maze 4 GPU installation, I cleaned the GPU core off with rubbing alcohol. I also did the same for the memory chips. Next I screwed in the long retention bolts into the waterblock. I applied Artic Silver 3 to the block and also to the GPU. Next I slid on the block and screwed it down with the retention mechanisms provided. I finnished up the card by applying the ramsinks with the given double sided tape (Was all out of artic silver thermal adhesive).

Install completed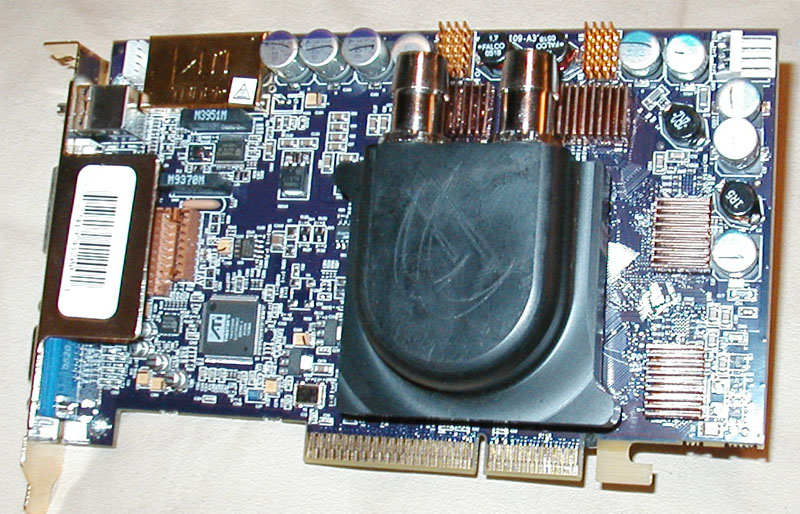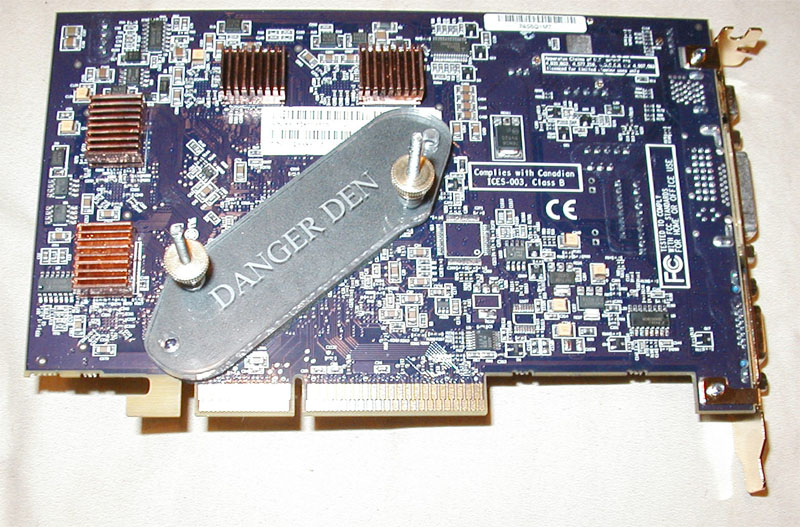 Results
Hardware setup
| | |
| --- | --- |
| CPU | AMD Athlon XP Mobile @ 2.45ghz, 1.95Vcore |
| Memory | 2x512mb Kingston BH-5 @ 225mhz 2-2-2-5 |
| Motherboard | DFI Infinity NF2 |
| Video Card | BBA X800XT All-In-Wonder |
Watercooling Setup
| | |
| --- | --- |
| Pump | Liang D5 (Swiftech MCP655) |
| Tubing | Clearflex 1/2"ID, 3/4"OD |
| Radiator | Quad 120mm Heatercore |
| Fans | (4) Evercool Aluminum 120x120mm fans |
| Waterblocks | Maze4 CPU, Maze4 GPU |


The watercooling setup I have is a custom external enclosure. I will have another article published as to its creation and watercooling benefits. The routing is as follows: Reservoir -> Pump -> Rad -> GPU -> CPU -> Reservoir.

Watercooling Enclosure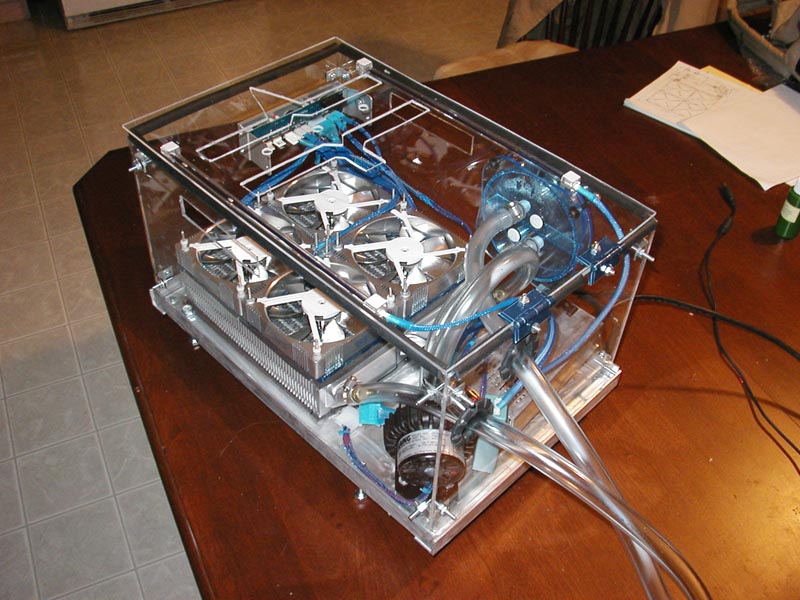 Here are the results of the Videocard in stock cooling form. To obtain the Load temperatures I ran ATI Tray Tools 3d renderer. To obtain Max Overclock I use the same tool and made sure it was 3D Mark 2005 Stable.


Setting
Temperature Degrees C
Stock Idle
(500/1000)
GPU: 43
GPU ENV: 41
CASE: 30
CPU: 34
Ambient: 23

Stock Load
(500/1000)
GPU: 71
GPU ENV: 48
CASE: 31
CPU: 35
Ambient: 22

OC Idle
(550/1160)
GPU: 41
GPU ENV: 39
CASE: 29
CPU: 34
Ambient: 22

OC Load
(550/1160)
GPU: 71
GPU ENV: 49
CASE: 31
CPU: 36
Ambient: 22



After the Maze 4 GPU was implemented including ramsinks:


Setting
Temperature Degrees C
Stock Idle
(500/1000)
GPU: 30
GPU ENV: 38
CASE: 30
CPU: 36
Ambient: 23

Stock Load
(500/1000)
GPU: 31
GPU ENV: 41
CASE: 30
CPU: 38
Ambient: 22

OC Idle
(600/1200)
GPU: 29
GPU ENV: 38
CASE: 29
CPU: 36
Ambient: 22

OC Load
(600/1200)
GPU: 37
GPU ENV: 40
CASE: 29
CPU: 37
Ambient: 22



Observations

These results show a spectactular improvement in GPU Core and GPU environment temperatures. At the stock clocks of (500/1000) the move to the Maze 4 GPU netted a drop of 40 degrees C at Full load! No matter how far I tried overclocking the core with my watercooling setup I always kept the GPU under 38degrees. And as you can see I was able to go from 550/1160 to 600/1200 by going with the waterblock and ramsinks.

Conclusions

I expect if I were to voltmod my videocard I could go to 700mhz Core and 1300mhz Memory. Bot now you might be asking, is the Maze 4 GPU worth $50, its a tough call. At 500/1000 I got an average FPS of 91 in CounterStrike:Source Stress Test (1600x1200, Max everything, 4xFSAA, 16X AF). At 550/1160 I got 101 FPS. At 600/1200 I got 106 FPS. The jump from 500/1000 gave me another 10FPS, but going from 550/1160 to 600/1200 I got 15 FPS over baseline. So is 5 FPS worth $50.00? Not to most people. Is the Maze 4 GPU worth 5FPS, Much cooler temps (longer life), the possibility to voltmod safely, and not forgetting eliminating the obnoxious whirring of the stock cooler? I would say for sure YES!

Pros:
+Decrease in noise
+Much Cooler GPU temps
+50Mhz Core and 40Mhz Memory overclock

Cons:
-Packaging wasn't ideal
-Utility may not be there (price vs. performance)

All in all I would rate my experience go the Maze 4 GPU and Ramsinks to be a good one. It helped out quite well in every respect. I'd advise heading ver to Danger Den and grabbing a Maze 4 GPU waterblock if you're in the market for one.